LPC Starter Development Kit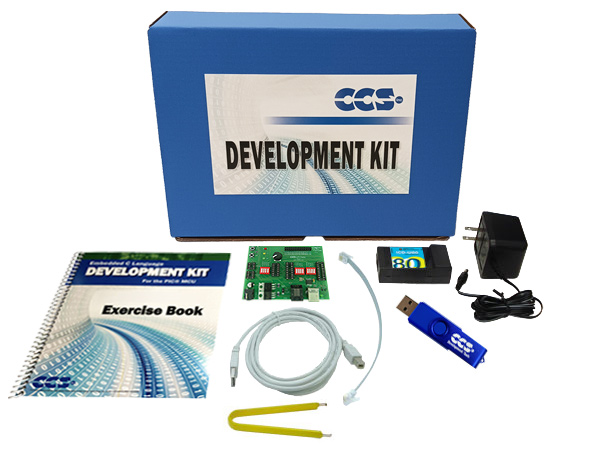 Development Kit Options
Tools Included
w/Compiler

Hardware
Only*
Proto-
Board*

Sku

S-199
53330-1608
53222-1607
Compiler Software
PCW
Programmer
Prototyping board
Power supply & cables
Exercise book
Price
$450
$125
$40
*Hardware only and proto-boards are intended for customers already owning a CCS compiler.
The Low Pin Count (LPC) Starter development board supports prototyping with 8, 14, 18 or 20 pin PIC® processors. With an ICD-U64, debugging is possible using the CCS C-aware real time debugger on processors that have debugging support. On-board interfaces and access to all processor pins makes rapid prototyping for these small parts easy. On-board TTL serial to USB converter (PIC® MCU based) can be reprogrammed with a tag-connect cable. This development kit includes the powerful PCW Integrated Development Environment with compiler support for Microchip's PIC® PIC10, PIC12 and PIC16 families.
LPC Starter Prototyping Board (Size: 4" x 2.94") includes: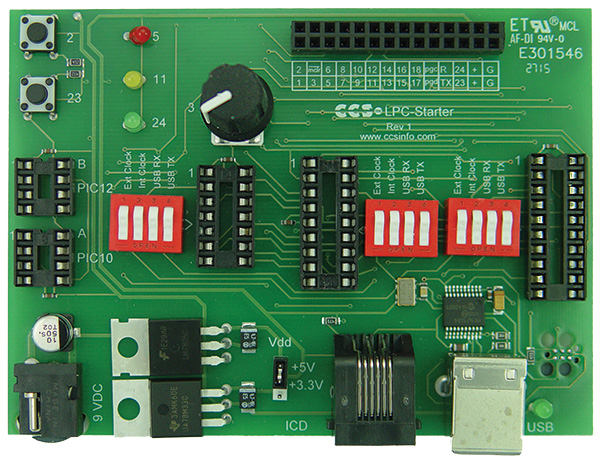 8, 14, 18 and 20 pin DIP processor sockets
Jumper selectable 3.3V or 5V Vdd
8mhz oscillator can be optionally switched in
TTL serial to USB converter can be switched into any processor
Three LEDs
Two Pushbuttons
One Potentiometer
Standard ICD connector
Breakout header to each PIC® MCU I/O pin
LPC Starter Development Kit includes:
LPC Starter Prototyping Board with a PIC16F1469 Processor Chip
ICD-U64 In-Circuit Debugger/Programmer
Chip Extractor
PIC16F1824 DIP14 Processor
DVD of C Compiler (optional)
Click here to view the Prototyping Accessories.