ACE Kit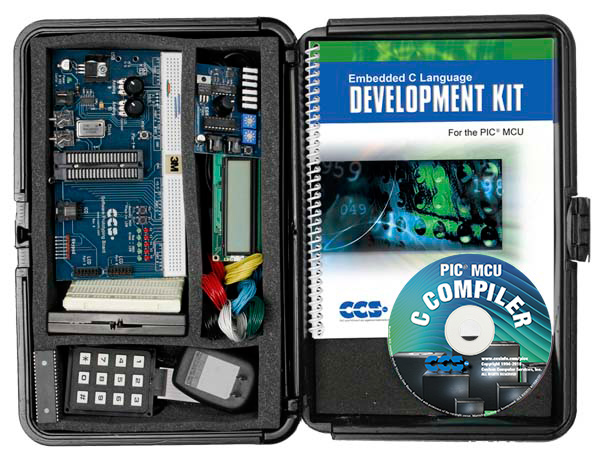 Development Kit Options
Tools Included
w/Compiler

Hardware
Only*
Proto-
Board*

Sku

S-46
S-43
53100-88
Compiler Software
PCW
Programmer
Prototyping board
Power supply & cables
Exercise book
Price
$544
$219
$145
*Hardware only and proto-boards are intended for customers already owning a CCS compiler.
View Details. The estimated return to stock date is September 1, 2024.
The ACE Kit is the perfect solution to to an advanced engineer's development needs. Along with a prototyping board, it includes the powerful Integrated Development Environment with compiler support for Microchip's PIC® PIC10, PIC12 and PIC16 families and an ICD-U64 in-circuit programmer/debugger that supports C-aware real time debugging. The ACE Kit utilizes the CCS Software Prototyping Board - A PIC® MCU designer's best friend. The prototyping board includes a standard 40-pin socket to access connectors and expanders to develop a variety of applications before the final target platform is designed. Add on compiler support for PIC18 and PIC24 devices. (PIC24 and dsPIC® devices need to be 5V.)
The Software Prototyping Board (Size: 6.625" x 3.875") includes: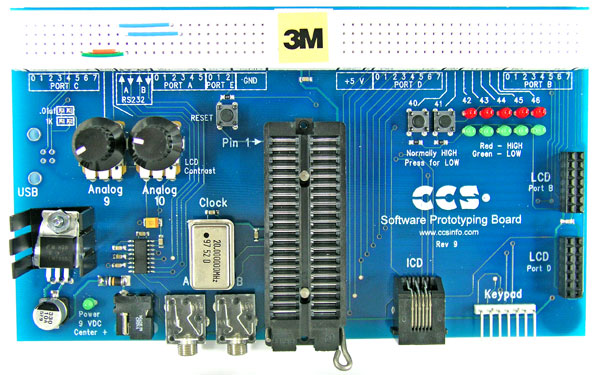 One terminal strip/breadboard for easy access to I/O pins, 5V source and all on-board features
Three standard .1" headers to Port B for LCD and keypad set connection, Port D for LCD connection, or for easy connection to other user hardware
One 40-pin ZIF socket
Two RS-232 driver/receivers
Two potentiometers for analog voltage selection
Two push-button switches
Five LED pairs to monitor I/O pins (Red signal: HIGH/Green signal: LOW)
ICD connector
20 MHz socketed oscillator
Crystal and RC clocks for use with user-supplied header
Connectors for optional 16 x 2 back-lit LCD module and 4 x 3 keypad
9V AC Adapter
PC serial cable and jumpers
C example programs are ready-to-run on this board with wiring instructions for each example in the CCS Compiler
The ACE Kit includes:
Software Prototyping Board
In-Circuit Programmer/Debugger
USB Add-On (does NOT include PIC18F4550 chip)
30 I/O Pins (7 Can Be Analog)
2-digit 7-segment LED
Optional ACE Board Accessories:
Click here to view the Prototyping Accessories.