PIC18F8722 Development Kit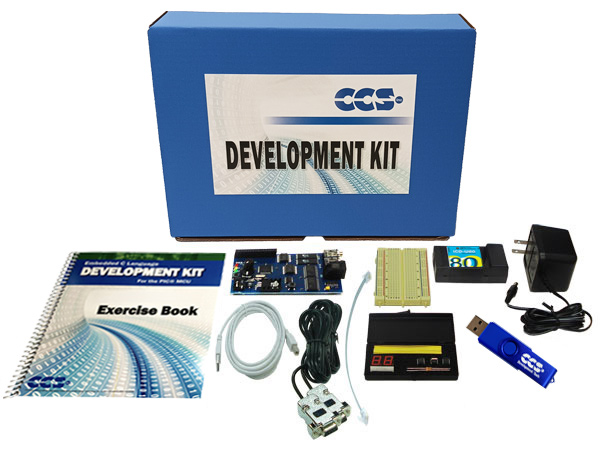 Development Kit Options
Tools Included
w/Compiler

Hardware
Only*
Proto-
Board*

Sku

S-10
53307-468
53107-404
Compiler Software
PCWH
Programmer
Prototyping board
Power supply & cables
Prototyping Parts Box
Exercise book
Price
$624
$149
$60
Product Out of Stock
*Hardware only and proto-boards are intended for customers already owning a CCS compiler.
The development kit contains everything you need to begin development with Microchip's PIC® PIC18F8722 MCU. Along with a prototyping board, it includes the powerful PCWH Integrated Development Environment with compiler support for Microchip's PIC® PIC10, PIC12, PIC16 and PIC18 families and an ICD-U64 in-circuit programmer/debugger that supports C-aware real time debugging. The prototyping board features an external memory interface with a PIC18F8722 connected to a potentiometer, a pushbutton, three LEDs, an RS-232 level converter connected to the C6/C7 UART and the G1/G2 UART, and an ICD connector. Several EEPROMS are included for developing applications that require external memory.
PIC18F8722 Prototyping Board (Size: 4" x 2.5" ) includes: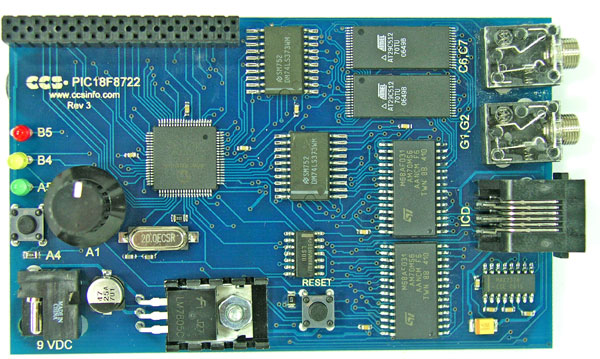 PIC18F8722
29 I/O Pins (13 Can Be Analog)
One Potentiometer
One Pushbutton
Three LEDs
RS-232 Level Converter
External EEPROM
ICD Jack
PIC18F8722 Development Kit includes:
PIC18F8722 Prototyping Board
In-Circuit Debugger/Programmer
Breadboard
Parts box with:

93LC56 serial EEPROM chip
Jumpers
DS1631 digital thermometer chip
NJU6355 real-time clock IC with attached 32.768kHz crystal
Two digit 7-segment LED module
Two 1K Ohm resistors
Click here to view the Prototyping Accessories.