PIC18F6722 Development Kit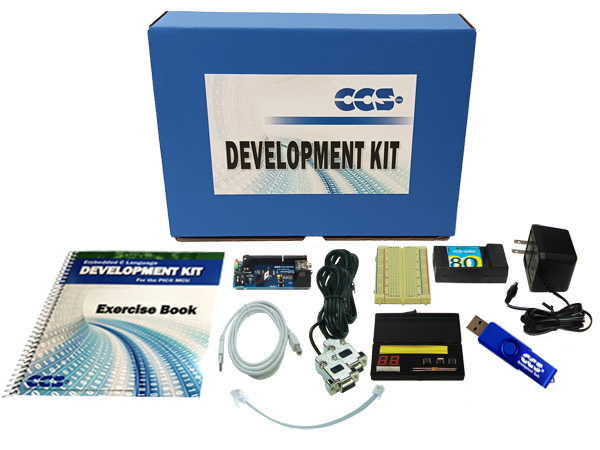 Development Kit Options
Tools Included
w/Compiler

Hardware
Only*
Proto-
Board*

Sku

S-9
53306-467
53106-410
Compiler Software
PCWH
Programmer
Prototyping board
Power supply & cables
Prototyping Parts Box
Exercise book
Price
$624
$149
$55
Product Out of Stock
*Hardware only and proto-boards are intended for customers already owning a CCS compiler.
The development kit contains everything you need to begin development with Microchip's PIC® PIC18F6722 MCU. Along with a prototyping board, it includes the powerful PCWH Integrated Development Environment with compiler support for Microchip's PIC® PIC10, PIC12, PIC16 and PIC18 families and an ICD-U64 in-circuit programmer/debugger that supports C-aware real time debugging. The prototyping board features a PIC18F6722 connected to a potentiometer, a pushbutton, three LEDs, an RS-232 level converter connected to the C6/C7 UART and the G1/G2 UART, and an ICD connector.
PIC18F6722 Prototyping Board (Size: 3.125" x 1.75") includes: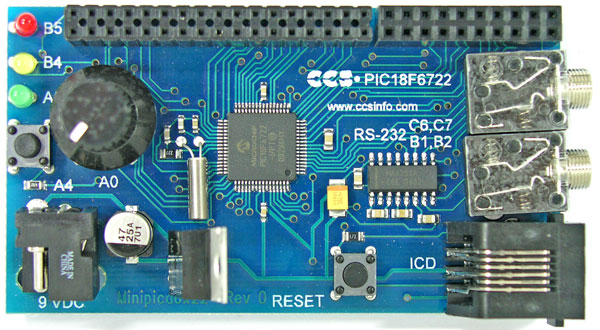 PIC18F6722
48 I/O Pins (11 Can Be Analog)
One Potentiometer
One Push-button
Three LEDs
RS-232 Level Converter connected to the C6/C7 UART and G1/G2 UART
ICD Jack
PIC18F6722 Development Kit includes:
PIC18F6722 Prototyping Board
In-Circuit Debugger/Programmer
Breadboard
Parts box with:

93LC56 serial EEPROM chip
Jumpers
DS1631 digital thermometer chip
NJU6355 real time clock IC with attached 32.768kHz crystal
Two digit seven segment LED module
Two 1K Ohm resistors
Click here to view the Prototyping Accessories.